Chamira Jayasinghe, CEO of Arimac Digital
---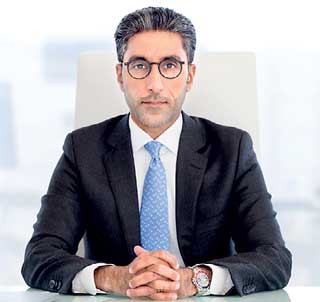 Bassam Yousef Al Ibrahim, CEO of Ooredoo Algeria
---
Further developing its digital prowess beyond global borders, leading digital solutions provider Arimac recently partnered with the Algerian subsidiary of telecommunications giant Ooredoo to develop a new feature-rich mobile self-care application "Yooz", for the youth of the country. This is the first time that a Sri Lankan IT organization has joined forces with an Algerian company for the development of a fully-fledged mobile application; to propel Arimac into the global spotlight.
"We are deeply honored to partner with a world-class company such as Ooredoo to set a new benchmark in Sri Lanka's technology sector by developing this unique self-care app that brings an intuitive 360-degree solution to engaging customers. young people today. I congratulate our committed and highly skilled team for their intense dedication to completing Yooz in just six months amid a pandemic that has undoubtedly challenged us all in unprecedented ways. Arimac has always strived to accelerate the development of the country's ICT landscape, and Yooz is another successful testament to this journey. We will continue to push the boundaries of excellence both in the country and in the region as we innovate for the future, "said Chamira Jayasinghe, Founder and CEO of Arimac Digital.
Ooredoo Algeria CEO Bassam Yousef Al Ibrahim commented: "At Ooredoo, we are constantly looking for cutting edge technology to provide customers with unique user experiences. Our goal is to improve lifestyles, while providing seamless connectivity. In Arimac, we have found the perfect partnership.
Isabelle Hajri, Marketing Director of Ooredoo Algeria, commented: "The Arimac team worked closely with us and leveraged their creativity and unique design dexterity to bring a solution to life, merging perfectly with our vision. At a time when this pandemic has disconnected the world, our goal with Yooz is to empower users to nurture their connections, through personalized data plans designed by them, responding to their own individual preferences and capabilities. We are very excited to connect and engage with our youth customer segment on a much deeper and intrinsic level, with Yooz. "
With a sleek and easy-to-use interface, Yooz gives users access to a carousel of exciting features and options, giving them greater control over their mobile connections. Yooz comes with a graphical and interactive dashboard that displays balance information, purchase history, and wallet information, among other information. A conversational and playful cognitive function named "Roogy" is built into the app to help users, while they also have the ability to create their own personalized mascot through the platform's gadget store. The mascot grows with each transaction made on the app, followed by a points system with a leveling mechanism and a mechanism for purchasing gamified packages.
In addition, users can take advantage of numerous partner promotions, voucher generation, weather, prayer times, loans, entertainment, education, games, blood donation information, and member reward features. A full-fledged backend administration portal is available on the application to retrieve management summary reports and CVM analysis.
Organized and developed by Arimac's elite software engineering team, the 'Yooz' self-management app is now available on Android and iOS platforms, garnering over 30,000 downloads during the first week of release. Despite the many challenges posed by the pandemic, Yooz went from concept to reality in just six months, proving Arimac's specialized expertise in the field of software development.
Arimac Digital consists of a team of qualified in-house experts who design and develop innovative and revolutionary solutions recognized and approved by a clientele of local and international companies, bringing Arimac to the world stage in just 10 years of activity. Global partnerships and opportunities like this drive Arimac Digital's vision to push Sri Lanka's ICT industry to new heights with the support and reflection of motivated young talent.
Source link