Tunisia is holding a referendum on July 25. Few are those who have as much interest in it as Algeria.
In the eyes of the army generals and political elites who govern Algeria, their country is an island in the middle of a sea of ​​chaos. Neighboring Libya is ravaged by civil war and the countries of the Sahel by coups and extremist insurgencies, while Morocco is seen as an ingesting belligerent, especially since the normalization reports with Israel, one of Algeria's greatest adversaries.
Although grappling with deep political uncertainty and economic challenges after the 2011 Arab Spring, Tunisia nonetheless looked like an exception on this troubled map. To make this happen, Algeria has invested for years in Tunisia's stability, providing it with natural gasgovernmental readyand other bilateral aid.
So Algerian leaders watched closely in July 2021 when President Kais Saied suspended parliament, fired the prime minister, and began ruling by decree, ostensibly to save the country from crisis. The reshuffle came at a sensitive time for the Algerian government, which was already struggling to deal with the pandemic and pacify its people after two years of open protest.
After Saied's smooth coup, relations initially remained strong; Tebboune paid a state visit to Tunis in December 2021 and delivered a large rescue loan. But Tunisia is quickly growing links with rival Arab nations aroused distrust in Algiers, while Saied widened his purge national adversaries, fueling protests and deepening uncertainty. Algerian leaders have not always succeeded in hiding their frustration with these choices. The irritation turned mutual in May when Algerian President Abdelmadjid Tebboune – in defiance of his own country's checkered democratic credentials –Told journalists that Algeria was ready to "help Tunisia overcome the current crisis and return to the path of democracy".
While Tunisians may bristle at the moralizing tone, Algeria remains genuinely concerned about the possibility of instability in Tunisia, which is baton by skyrocketing world grain prices and now risks a major default. To help, Algeria comes reopened its borders with Tunisia – closed for more than two years amid the pandemic – in hopes of injecting much-needed trade and tourism revenue. Algeria is harder position in the ongoing renegotiation of gas agreements, however, recalls that its willingness to help has limits, especially when its fundamental interests are at stake).
Currently, Algiers is very nervous about the July 25 referendum on the new constitution proposed by Saied, which critics have slammed as an undemocratic reversal of Tunisia's post-Arab Spring gains. Still focused on short-term stability rather than democratic principles, Algerian leaders fear that if Tunisians reject the constitution, they will plunge their country into total crisis. Earlier in July, Tebboune took advantage of Algeria's independence celebration to convene Saied and Noureddine Taboubi, secretary general of the powerful Tunisian General Labor Union (UGTT), for a meeting in Algiers. But the talks were as much about strengthening Algeria's self-perception as a regional broker for peace as they were about the real substance. Saied and Taboubi had already meet home and, three days earlier, on July 2, Taboubi had announcement that the UGTT would abandon its appeal to trade unionists – who are among the number million in the midst of an electorate of a few nine million…to boycott the referendum. Taboubi has so far refused to go any further and explicitly encourage members to vote – a position left unchanged by the Algiers meeting.
However, most Tunisian opposition parties continue to call on voters to boycott the referendum, decry the substance of the proposed constitution and how it was drafted. It's a familiar refrain for Tebboune. Elected in 2019 against a backdrop of popular uprising, Tebboune put a new constitution to the vote the following year and saw it pass with Support less than 14% of eligible voters. Disorganized and cynical about the prospects for change, Algeria's popular opposition fell back on old habits and called for a boycott, but in doing so missed a rare opportunity to thwart the leaders' plans and force them to hold account of popular demands.
Does the Tunisian opposition draw lessons from this Algerian experience? The ties between the two peoples are numerous, including within civil society and political parties, so there are channels to convey such messages – if these are the lessons that the Algerian opposition has learned and that Tunisia wants to hear. Given the continued calls for a boycott in Tunisia, however, this seems doubtful. As in Algeria, the boycott will not prevent Saied's constitution from being adopted and is unlikely to change anyone's opinion of its legitimacy. Short-sighted Algerian leaders will be relieved to see him pass, even narrowly, as long as he gets Tunisia past this sensitive moment.
Whatever the outcome, the referendum will not put an end to Algeria's worries about its smaller neighbor, especially because rumors are now circulating whirling that Tunisia could be the next domino in the Arab world to fall to normalization with Israel. If that happened, it would destroy one of Algeria's oldest alliances and leave it wedged between two Israeli allies, exacerbating the leadership's siege mentality. It could also have domestic ramifications in Algeria, where the population overwhelmingly supports the Palestinian cause and reject Israeli advances in the region. But Algeria has already struggled in recent times to shape regional affairs to its liking, despite the considerable leverage its oil and gas wealth affords it. For these reasons, little Tunisia presents a great test, and Algeria will continue to play an active and interested role in Tunisian affairs well beyond the July 25 referendum.
Andrew G. Farrand is a Nonresident Senior Fellow with the Atlantic Council's Middle East Programs. He is the author of The Algerian dream: youth and the quest for dignity.
Further reading
Thu Sep 5, 2019
Is the early presidential election a political turning point for Tunisia?
Source: MENA
By
Haykel Ben Mahfoudh
The results of the next Tunisian presidential election could also change the political spectrum for the next legislative elections. Over the past eight years, political paranoia has been the rule, leading public opinion to discredit politicians and political parties.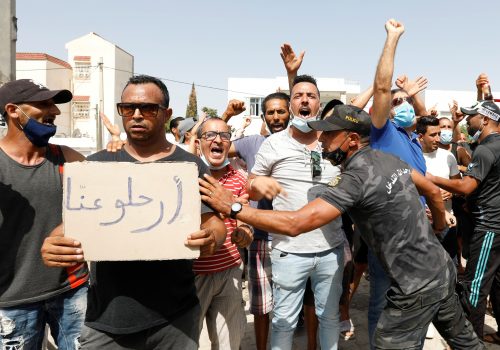 Tue 27 Jul 2021
Experts react: what's next after the Tunisian president's parliamentary freeze?
Source: MENA
By
Atlantic Council
On July 25, President Kais Saied invoked Article 80 of Tunisia's constitution to dismiss Prime Minister Hichem Mechichi and dissolve parliament. Atlantic Council experts react to events, assess the impact on fledgling democracy, and advise on how the international community might respond.